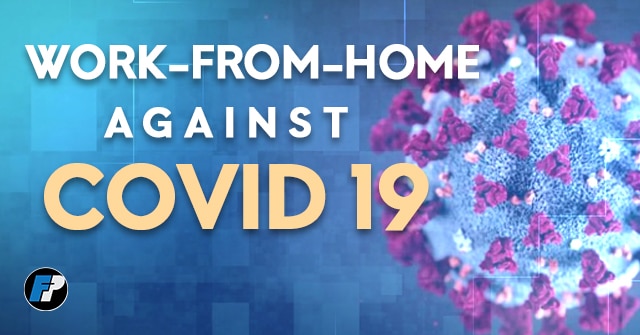 COVID 19, a global pandemic crushing the economy
The year 2020 has been so challenging and we're only at the first quarter of the year. So far COVID 19 has been the most powerful and dangerous enemy we have seen. Being a global pandemic as it is, COVID 19 has greatly affected the world's economy in large scale in just a short period of time. Because of this, governments and companies around the world are looking at working from home as a wise option against COVID 19.

Working from home or "Telecommuting" is mostly a win-win option for both employees and employers to avoid the spreading of the dreaded virus. Employees get to work and paid even not commuting to their offices. Company operation are still on track. And because no physical contact, it reduces the chance of being infected by the virus.

It is alot more convenient to work from home than commuting daily to work. But many are really not used to it. In China, Millions of Chinese employees are working from home for the first time.
To some this is more comfortable, because they get to work immediately after waking up without the hassle of commuting to work everyday. But many also are forced to adapt, and companies also saw administration harder, due to less efficient communication and employees slacking off at work doing personal things
Working from home in the Philippines
In the Philippines, the Senate recently urged companies to push working from home options for their employees.
The Telecommuting Law (Republic Act No. 11165) institutionalized work-from-home as a work arrangement and harmonizes its principles with the Labor Code.
Last March 4,2020, the DOLE issued an advisory laying out the guidelines on the implementation of flexible work arrangements amid the COVID-19 outbreak.
https://news.abs-cbn.com/news/03/12/20/coronavirus-philippines-robredo-pushes-for-work-from-home
https://www.businessinsider.com/coronavirus-jpmorgan-employees-work-from-home-contingency-plan-test-report-2020-3?fbclid=IwAR2ObxlDeCOzbK5r7JF-e3mUpu5gWyBu1OoGwiXGvAp9YxMZrnc9cct8NGE
Online Freelancing vs Telecommuting/Working from home
Working from home is a very new thing to some, but it has already become a primary source of income for other Filipinos who are doing Online Freelancing for quite some time.
Telecommuting – Working from home for a company as a regular employee through online communication.

Online Freelancing – Working from home by offering services to companies and businessmen but not as a regular employee, but a contractual service provider.
Online freelancing has been known ever since the early 2000's. At this time it was introduced to the Filipinos by the famous freelance market sites like Upwork, Freelancer.com, OnlineJobs.ph, Fiverr etc. And quite frankly, Filipinos are one of the best people to be hired as freelancers. It is because of the Filipinos ability to communicate and the work ethics we have.
Although online freelancing has been the bread and butter for some of our fellow Filipinos, mostly are yet to achieve something and some are really skeptical and don't even bother to try it.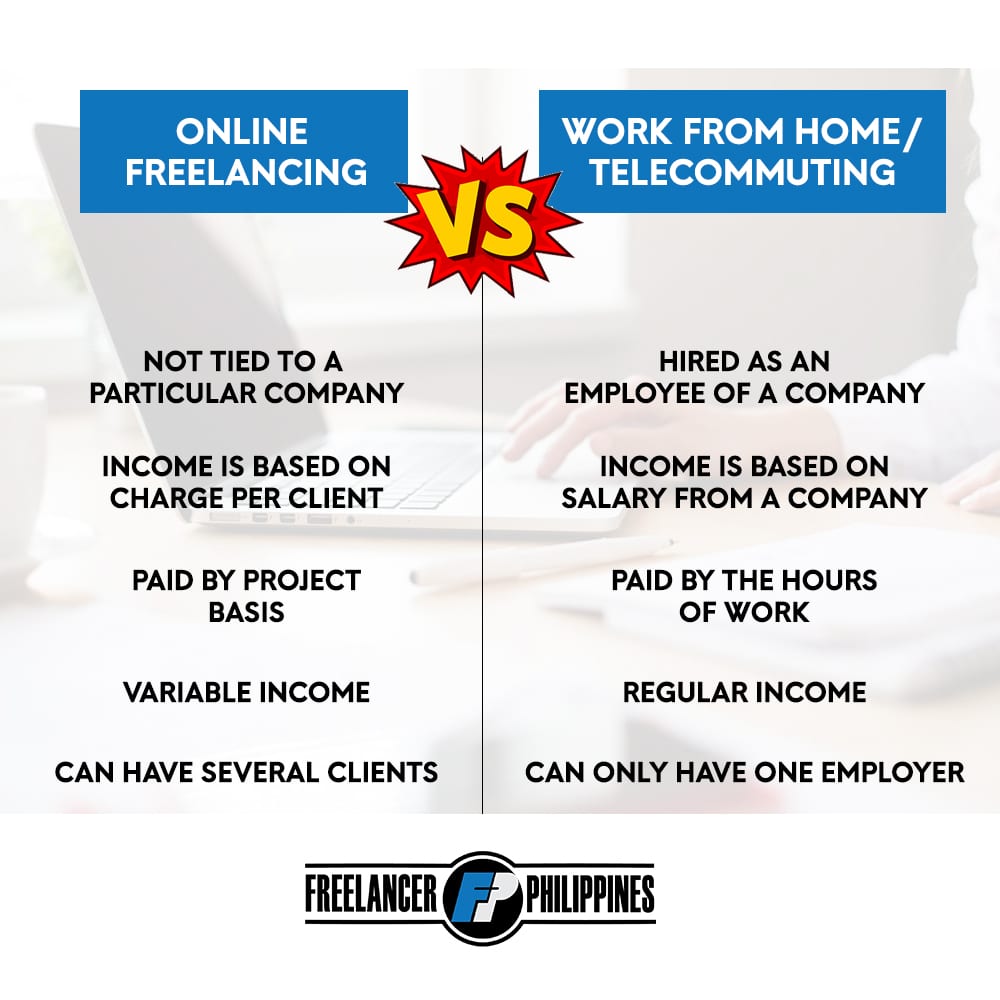 From my own experience of doing online freelancing for several years, I can say that through this I earn 3-4 times the amount I earned from working for a corporate job. And not to mention the time I save because of not needing to commute to work. I had more time for rest, for hobbies and finding more ways to earn money online.
In a nutshell
Telecommuting is a little different from online freelancing. But the main thing, and I think the most important, is working in the comfort of your home. No time wasted on traffic, more time with family and hobbies, more time to rest. It may seem easy but without discipline you can easily slack and binge watch a Netflix series. Not to mention other distractions in the house.

All in all, the benefit in working from home is subjective. People may want it, but some people won't. How about you? What are your thoughts on this? I would greatly appreciate you leaving a comment below.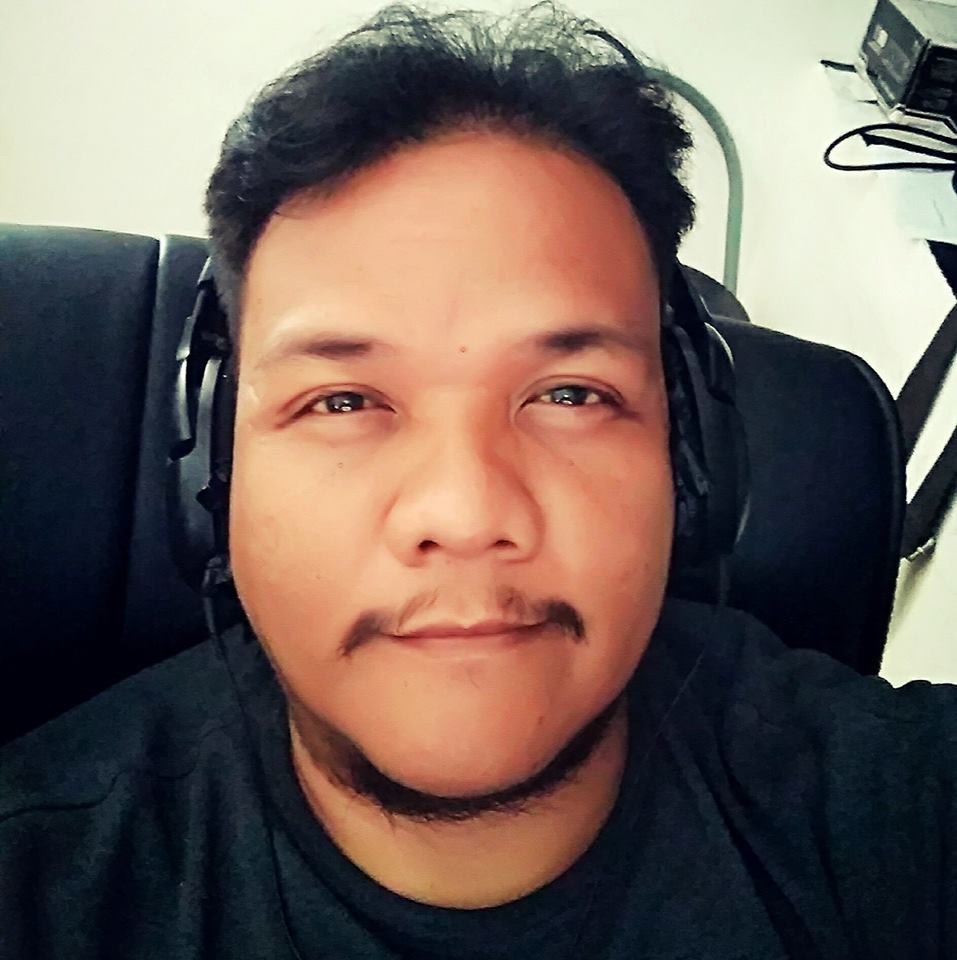 i am hunting for bugs on this website … please tell me when you see one…